Description
XMAX ACE Dry Herb and Concentrate Vape
The Latest dry herb ACE Vaporizer from XMAX. This XMAX Vaporizer can be compared very closely with the popular Starry. But it does have some updated features when compared to the starry. The most obvious and very handy feature is the sliding base inside the herb box, which allows you to dump spent herbs by simply pushing up the slide on the front of the XMAX ACE. This ACE Vape feature does improve the whole experience.

The ACE Vaporizer is a conduction vaporizer that utilizes a black ceramic herb chamber. It produces consistent vapor every time, with little to no learning curve needed to get a good result out of it. The ACE Vape is perfect for those who sit back and take their time in vaping sessions and is a great option for people new to vaporizing.

Specifications:
Boost Mode: 255 °C
Working voltage: 3.3-4.2V
Charging: Micro USB charging
Charger/ Output Voltage: 5.0V/ 1 A
Battery Capacity: 18650 3.7V 2600mah
Color: Black or Wooden
Included: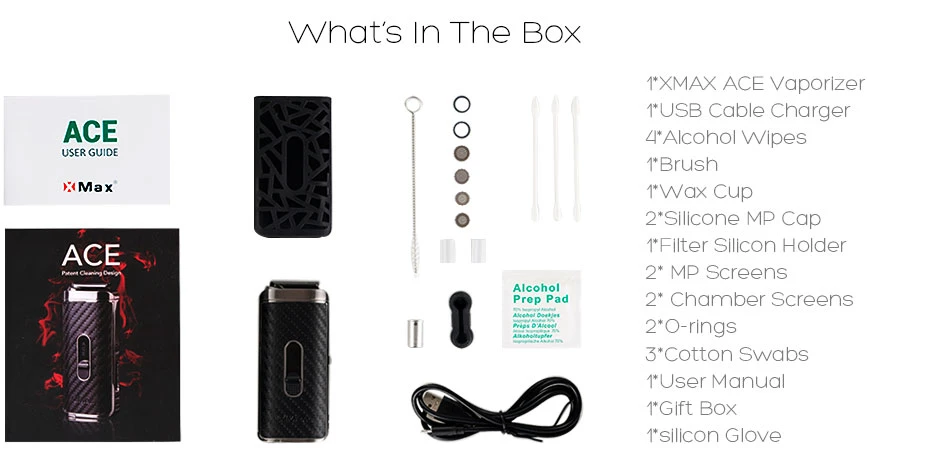 I am very pleased with the XMAX ACE Vaporizer. I was searching for a portable vaporizer that had good conduction, produced a lot of vapor, and was easy to use with an affordable price point. The XMAX ACE delivers on all these needs.
I Am very impressed with this vaporizer - the battery life is great, the vapor quality is fantastic and it's so easy to clean.
I have to say it provides excellent performance in a form that is very easy to maintain.
It produces consistent vapour every time, with little to no learning curve needed to get a good result out of it.
I own the xmax ace Vaporizer and I must admit that it is an excellent vaporizer. The compact size and easy to maintain design are excellent attributes that make it easy to recommend.